Honda E Wing Mirrors - A huge feature confirmed for Honda's new electric car ahead of launch
With electric cars becoming more popular than ever, most car manufacturers are focusing their minds on creating the most efficient and environmentally friendly models. Honda has confirmed a huge new future for its upcoming 'Honda E' electric car ahead of the launch later this year.
The Japanese car maker has stated that the Side Camera Mirror System of the new Honda E urban electric vehicle will be available as standard when the car enters production. A system like this is will also provide styling benefits as well as aerodynamics. Using cameras instead of side mirrors can reduce aerodynamic drag by around 90 per cent compared to conventional door mirrors. The side view mirrors provide live images to six-inch screens located on either side of the dashboard screen. This is a similar feature to the one used on the popular Audi E-tron which also provides a model without wing mirrors. 

The mirrors also improve visibility, Honda says, the camera unit housings are shaped to prevent water drops on the lens. The lens also has a water-repellent coating to prevent residual water build up which will become extremely useful in the unpredictable British weather.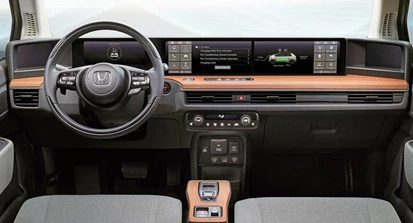 The Honda E has big plans to fulfill and is expected to have a battery range of more than 124 miles and come equipped with a "fast charge" capability that will provide an 80% charge in 30 minutes.
Pricing for the vehicle is expected to be revealed later this year and deliveries for the vehicle are expected in 2020