Since its purchase by the Chinese SAIC Motors and their resumption of production, MG has seen a meteoric rise from its seemingly eternal state of decay in a renaissance that has again brought it to the forefront of public consciousness in the UK, and in both Europe and China, with sales surpassing 51,000 in the UK in 2022, and anticipated to shatter the 120,000 mark by the end of 2023 in Europe.
In response to their boom in popularity and emergence as the premier manufacturer of affordable electric vehicles, MG have elected to do something so ambitious that few other firms (aside from Tesla and Porsche) have dared even propose it: a purely electric roadster. MG's latest and most exciting project will be dubbed the MG Cyberster and will be the world's first bespoke roadster EV that is organic and not contaminated by other manufacturer's components.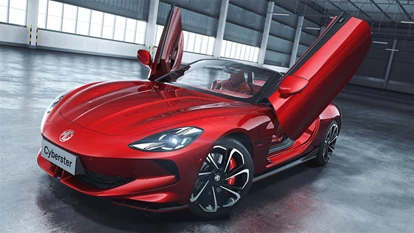 From what MG have revealed of the Cyberster, it is a tour de force in technological and styling innovation, having been conceived by SAIC's advanced design studio based in Marylebone, London. To celebrate both their centenary and recent U-turn in fortunes, MG have clearly demonstrated that they are keen to push frontiers in the EV industry and are thus using the Cyberster as a platform to trial new design and infotainment features, whilst synthesising their British heritage and new Chinese identity.
The Cyberster incorporates several elements from classic British sports cars, with a long, sloping, and highly contoured bonnet (in part enabled by the electric powertrain), as well as muscular wheel arches, a truncated rear end, distinctive MG grille, and an aggressive silhouette. However, the Cybserter was not designed exclusively as a eulogy to the legends of the past, and blends its traditional aspects with more contemporary attributes such as arrow shaped taillights, a full-width rear LED light bar, sleek headlights, black bodywork above the window line that creates the illusion of the car's segments thinning at the flanks, and scissor doors (typically a favourite of the most eccentric supercars). Evidently, the design team behind the Cyberster are trying to translate as many features as possible from the concept onto the production model.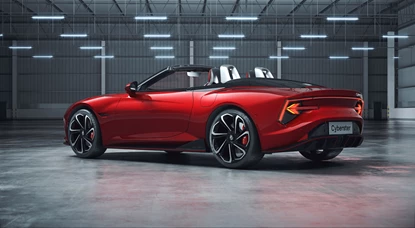 While the exterior seeks to strike a compromise between history and modernity, the Cyberster's interior is crammed with avant-garde technology and gaming-evocative components. A three-screen panel enveloping the steering wheel will function as a digital instrument cluster, while displaying driver assistance information, and allowing the system's multitude of infotainment functions to be controlled. Moreover, a portrait screen integrated into the dashboard will allow the driver to regulate the vehicle's climate control and access any auxiliary operations, with a separate array of switches and buttons for heated seat activation and driver mode selection.
The Cyberster's infatuation with technology is reflective of its need to cater to the Chinese market, according to Carl Gotham (the head of SAIC's advanced design studio in London), where entertainment and variety are crucial due to the length of time spent waiting in traffic.
Despite this, any distractions cannot be too overpowering since the Cyberster will have to sell substantial volumes in both the UK and Europe, where focus is often required at all times. There will also be an option to replace the conventional round steering wheel with a yoke design, although controversy surrounding this may mean that it is not available in the UK. Overall, MG have stated that the interior of the concept Cyberster is roughly 90 percent production-relevant, meaning that the actual model may exclude or adjust certain features, again demonstrating the considerable challenge MG must surmount in designing a vehicle suited to the drastically different driving environments of the UK/Europe and China.
Exact specifications regarding performance, range, and battery capacity and technology have been kept under the hood, however, it can be expected that MG will offer a rear-wheel drive variant with a single motor on the rear axle, and a more expensive all-wheel drive variant that utilises a dual-motor configuration to deliver greater performance. This single-motor Cyberster may produce around 309 bhp, whereas the dual-motor version may be capable of deploying approximately 536 bhp.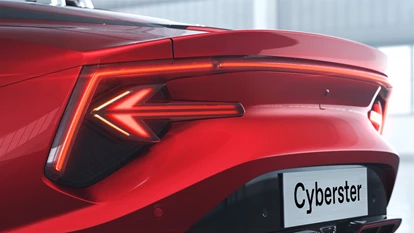 With the Cyberster, MG will be earmarking a range in the ballpark of 270 miles and a 0-62 mph acceleration time of roughly 3 seconds for the performance model. Being the first to seriously experiment with the electric roadster formula, MG will have little data to advise their tuning of the driving dynamics, which is fundamental for creating a successful roadster. Fortunately, Gotham has vowed that "there's been a lot of work going into this car to make sure it drives well".
The MG Cyberster will receive its first chance at glory at this year's Goodwood Festival of Speed, which is legendary for being used to showcase a wild and diverse cast of groundbreaking new vehicles. Here a static model will be dedicated for display purposes only, while a second will announce its debut by taking to the Goodwood hill climb event.
Due to MG's commitment to offering electric vehicles of high quality at reasonable prices, upon going for sale in the summer of 2024, the Cyberster can be expected to have a starting price of around £50,000, with flagship models likely costing upwards of £60,000. This will significantly undercut any similar models by Tesla and by Porsche, who is looking to unveil an electric successor to the Boxer in 2025.
As a result of the relatively small niche that it is fixed in its crosshairs, sale volumes are unlikely to be a primary concern for the Cyberster. While its popularity in each of MG's target markets will undoubtedly be important for gauging the effectiveness of the firm's most radical venture yet, the chief objective of the Cyberster is to emphasise just how far MG have come and how bold and inventive they can be.